Summer Student Research Fellowship
The Summer Student Research Fellowship (SSRF) is an eight-week summer experience providing College of Osteopathic Medicine (COM) students an opportunity to work with accomplished faculty researchers within established research endeavors.
Background and Objectives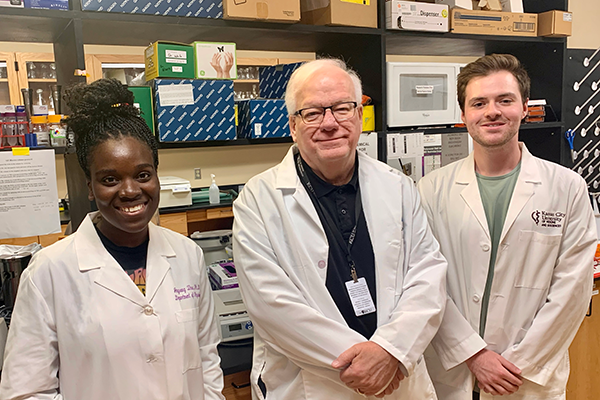 The fellowship program began in 2002 and since that time has continued to help COM students enhance their knowledge of research in order to become more skilled practicing physicians.
The three main objectives of the SSRF program are to: train medical students to conduct research; provide research faculty the opportunity to mentor students while the students conduct their own research projects; and provide COM students the opportunity to present papers at national conferences and publish manuscripts in peer-reviewed research journals.
Since the number of available residencies throughout the U.S. is now shared by both osteopathic and allopathic students, the SSRF program provides additional skills needed to keep students competitive for the limited number of residency positions and gives COM students an edge in attracting a residency.
About the SSRF Program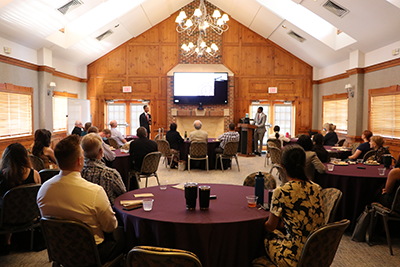 The fellowship is an eight-week hands-on research experience working with basic science faculty, clinical research faculty and faculty who conduct epidemiological research. At the beginning of the fellowship students and faculty attend an orientation session and learn lab safety protocols. Students work with faculty for eight weeks and at the end of the summer present a final formal summary of their accomplishments. Requirements include completing oral presentations and submitting a formal written report on the research outcomes. Students and faculty are expected to disseminate the results of the research at the annual KCU Research Symposium, and at local, regional, and national meetings and through publications.
Selection to the SSRF is competitive. Medical students and faculty mentors work together to develop a proposal for the research activity that will be conducted during the summer. The student's proposal is then evaluated by a review committee consisting of a non-competing research faculty member and select members of the Research Committee. Each application is ranked according to the elements of significance, design and methodology, research experience of the fellow, environment for success and the professional appearance of the proposal and application. Once the student has been successfully awarded the summer student research fellowship, fellowship requirements are defined prior to signing an acceptance agreement.
For more information on how and when to apply for the fellowship, email research@kansascity.edu.
Current SSRF Projects
Name

Title

Primary Investigator/
CO-PI

Klea Agollari

Left Atrium as a Predictor for the Anatomy Involved in Cardiac Device Treatments

Dr. Anthony Olinger

Sasank Aramandla

Identifying Gene Networks in Ovarian Cancer

Dr. Joseph Shaffer

Katelyn Eisendrath

Endothelial reprogramming by doxorubicin

Dr. Eugene Konorev

Aaron Graves

Identification of the Human Retinal Dystrophin Promoter

Dr. Robert White

Mahan Hadjian

Isolation of functional mitochondria from human platelets

Dr. Abdulbaki Agbas

Katiana Hebbert

Higher Lipolysis in Older Normal Human Fibroblasts Promotes Progression and Therapy Resistance to Pancreatic Cancer

Dr. Ehab Sarsour

Su Han Lee
Duyen Pham

Human platelet-derived mitochondrial OPA-1 isoforms and its interaction with TDP-43 in neurodegenerative diseases

Dr. Abdulbaki Agbas

Charles Marchese

Sciatic Nerve and Piriformis Relationship Variations as Determined by Sex and Laterality

Dr. Jennifer Dennis

Michelle Mathew

Characterization of sequence variations contributing to cardiotoxicity in pediatric patients undergoing chemotherapy

Dr. Nataliya Kibiryeva

Anh Nguyen

Comparing alternative splicing patterns in tissues from infants with Transposition of the Great Arteries to known patterns in tissues from infants with tetralogy of Fallot

Dr. Doug Bittel

Ria Singh

Endothelial-to-mesenchymal reprogramming by doxorubicin is mediated by the TGF-beta pathway in cultured human endothelial cells

Dr. Eugene Konorev