KCU-Joplin's esteemed faculty conducts research in a variety of fields from molecular and cellular biology to infectious diseases and biomechanics. Each faculty member has years of experience in research and are available for partnerships and student mentorship.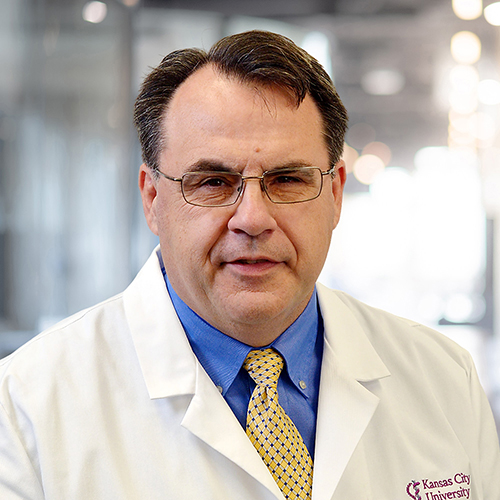 Robert D Arnce, M.D., FACEP
Assistant Professor – Joplin
Dr. Arnce is a native to southwest Missouri having graduated from Carl Junction High School in 1985. He received his BA in Biology and Chemistry in 1989 from William Jewell College in Liberty, Missouri followed by graduating in 1993 from Mayo Medical School in Rochester, Minnesota. He completed his residency training in Emergency Medicine in 1996 at the University of Louisville. After medical school Leadership roles at numerous institutions have been extensive in his career including being a founding partner and CEO of a physician staffing company and acting as ED director of multiple ERs.
He has served as medical director for fire departments, law enforcement tactical teams, and multiple EMS services including ground, fixed wing, and rotor transport services. Dr. Arnce. brings over 25 years of clinical experience in settings of critical access hospitals, level I trauma, heart and stroke centers and emergency departments. As an Assistant Professor at KCU, his background is vital in offering key educational components within the classroom and clinical laboratory. He continues to practice in Emergency Medicine at Freeman Hospital and facilitates KCU COM student's access to broad clinical research topics and retrospective clinical studies.
---

Bradley Creamer, MS, PhD
Associate Professor – Joplin
Dr. Creamer is a basic research scientist with experience in in vivo and in vitro modeling of various cellular mechanisms involved in signaling pathways, and the downstream changes in gene expression in response to those signals in both normal and disease states. In particular, he has an interest in investigating the roll of various signaling networks, including nuclear receptors, and their effects on the transformation, proliferation, survival, and development of drug resistance in models of human breast cancer.
Dr. Creamer has investigated the role of the Janus Kinase (JAK) and Signal Transducer and Activator of Transcription (STAT5) pathway in mammary epithelial cell survival as well as identified a novel splice variant of protein kinase B (AKT1) present only in the human mammary gland that leads to increased cell survival in both normal and neoplastic cells. By identifying networks that are dysregulated leading to enhanced cell survival, Dr. Creamer hopes to identify potential targets for therapy for use in breast cancer treatment. His work involves the use of advanced genetic and genomic methods including molecular cloning, in-vitro modeling, quantitative PCR, genomic sequencing including RNAseq, proteomics, and others.
---

Robert Rogers, MA, PhD
Assistant Professor – Joplin
Dr. Rogers is an exercise physiologist that researches molecular mechanisms that are involved in the beneficial adaptations to exercise training. His work has a special emphasis on type 2 diabetes and insulin signaling including the influence of inflammatory and anti-inflammatory molecules on the insulin signaling network. Recently, his work has expanded to investigate the influence of exercise on stress and inflammation, specifically on salivary biomarkers of stress in type 2 diabetics.
---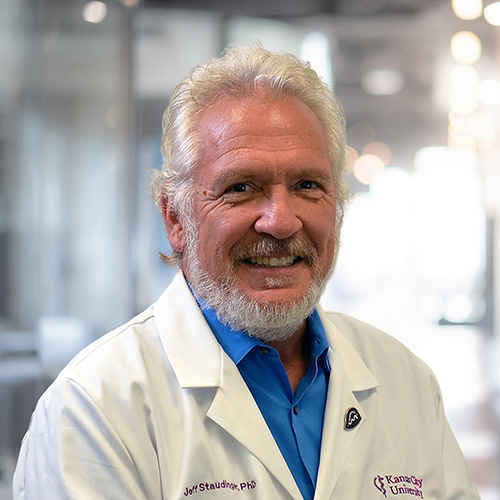 Jeff Staudinger, PhD
Professor, Chair of Basic Science Division – Joplin
Dr. Staudinger's recent publications and recent research studies are reviewed here:
Associations between Pregnane X Receptor and Breast Cancer Growth and Progression
Clinical applications of small molecule inhibitors of Pregnane X receptor
Dr. Staudinger serves as the Director of the MSSU-KCU Stress Research Consortium (MKRC). The MKRC is housed within the Biomedical Research Laboratory (BMRL), which is comprised of approximately 3,000 square feet of office and wet-lab space located 6.8 miles from the KCU campus on the campus of Missouri Southern State University (MSSU) in Joplin. Dr. Staudinger also serves as the course director for the Biomedical Science Research Elective (IDIS 198) offered through the KCU-COM.
Student participation in this research elective course serves as an entry into ongoing research efforts and is intended to provide a framework within which both KCU COM & two-year KCU COB M.S. students may engage in biomedical science research projects in Joplin. This course represents a mechanism by which students will receive academic credit for their participation in our research studies. These research-related activities are sponsored and located at the BMRL at MMSU, the KCU campus, or other approved regional partner institution(s) in Joplin.
Learn more about Dr. Staudinger's research activities:
Google Scholar | Bibliography, National Library of Medicine | ResearchGate Profile
---
Dennis Wolff, PhD
Associate Professor of Pharmacology – Joplin
Dr. Wolff is a classical pharmacologist with background knowledge and a technical skillset for in vivo and ex vivo studies of rat and mouse models of human disease, general lab problem-solving including equipment repair and custom computer programming, data analysis and graphic presentation, data interpretation and scientific writing. His principal research interest now is in understanding how individual cells can alter, especially via intracellular modulators such as RGS proteins and microRNAs, the duration and even the qualitative nature of their response to the same level of extracellular hormones acting through G-protein coupled receptors.
His research publications are via collaborative work in the labs of others in which a team approach permitted studies that incorporate biochemistry, molecular biology, cell culture, in vivo/ex vivo studies, histology/immunocytochemistry and, when possible, confirmation of findings in human tissue specimens. From this, he has research publications in several areas including asthma, pulmonary fibrosis, and breast and prostate cancer. If research space for laboratory animals becomes accessible to him, he would apply similar research methods and strategies while revisiting his much earlier research focus on a multifactorial structure/function assessment of renal and extra-renal vascular changes during the etiology of hypertension.
Learn more about Dr. Wolff's past research activities: Google Scholar | ResearchGate Profile